it was the end of the first month and my first salary had been credited, and a friend of mine was getting fish from Andrew rao, and i was pretty much excited to get some fish and as i had never kept a channa, asked for a channa aurantimaculata after a load of research, almost all my free time had been invested to find out and read about this beast.
bangalore was a new place and i had to quickly setup a tank and gather the decor for the setup, it took me a while almost 2 weeks before i got it all
ok lets get onto the details of the tank
the tank was a 48"x24"x18" - a 90gallon tank
substrate was golden sand and i had painstakingly removed most of the shells that were in the sand.
decor was only driftwood, close to 30 kilos of driftwood
and here is a pic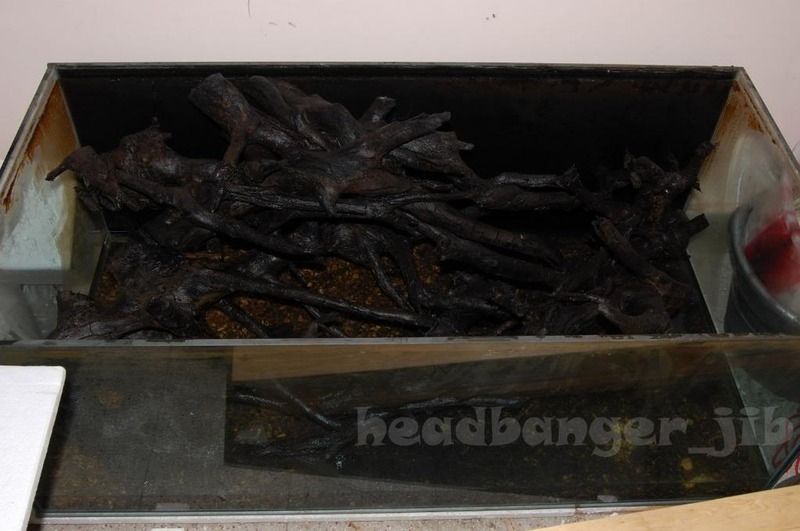 all that driftwood was a tight fit in the tank.
when i got the little blighter on a sunday i was not that very impressed, it was a little more than 5" in length and was pretty colorless, and looked quite dull.
i took him home and dumped him in his tank.
the next day i fed him some dry shrimp which he accepted pretty easily which was a relief as i was warned that the fish might not accept food readily.
here are a few old pics of him when he was still quite small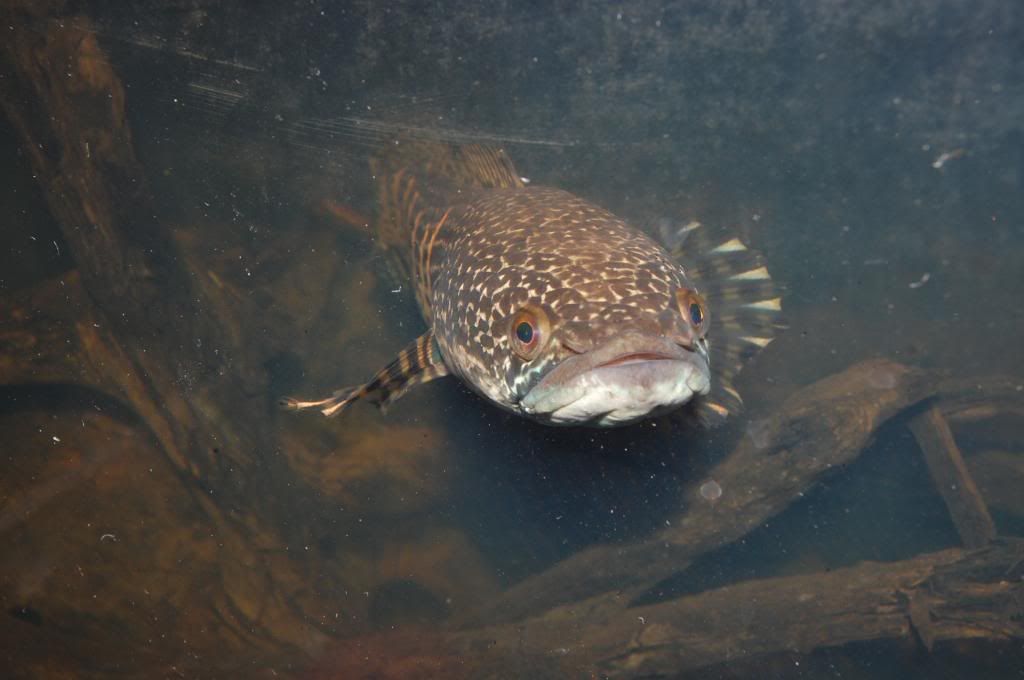 the tank was so heavily tanned most of the time that i never bothered to take pics of the tank or the fish for quite a many months after getting the fish, the person who had made the tank for me, was very much in dismay after he saw his tank filled with black water and there was zero visibility in the tank and there was quite a lot of algae on the front pane of the tank.
after a few months the fish grew a few inches on a diet of dried shrimp and hikari cichlid gold pellets, and i used to add live shrimps once in a month as treats.
by the next time i took pics of the fish, it had grown t a modest 10"+ mark and was quite tame by then, and had to remove one big piece of driftwood to give some space to the growing monster
here are a few intank pics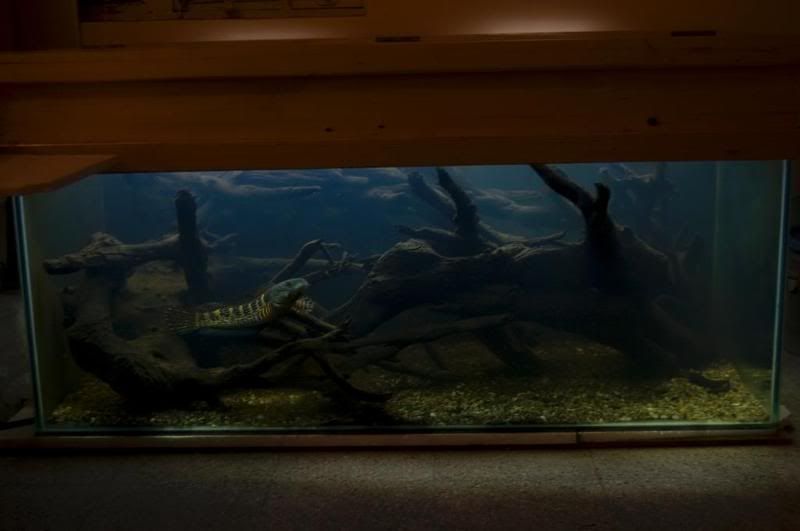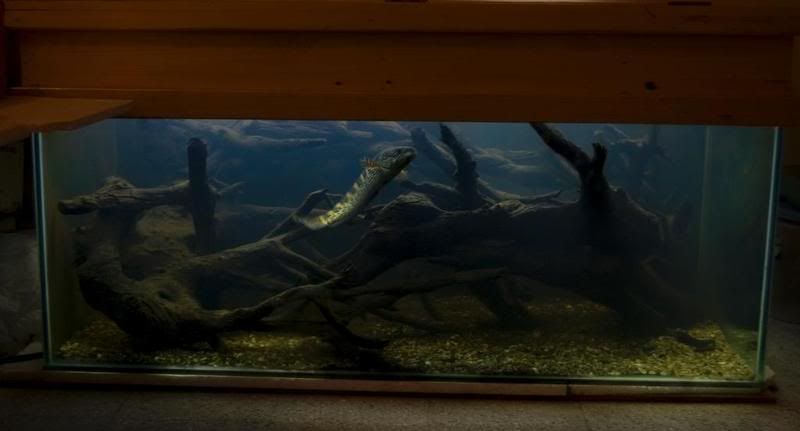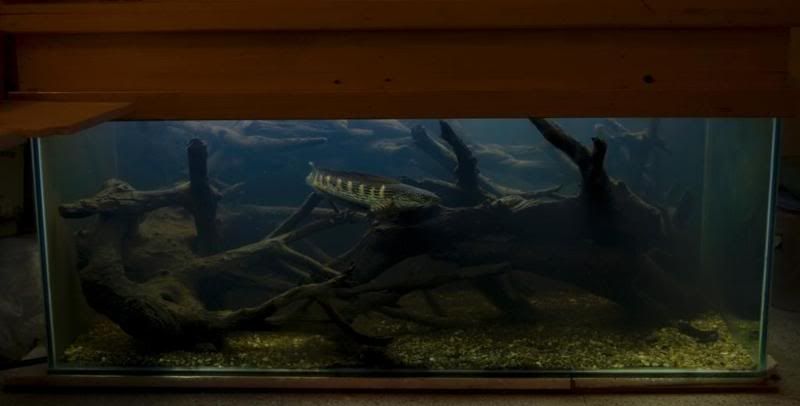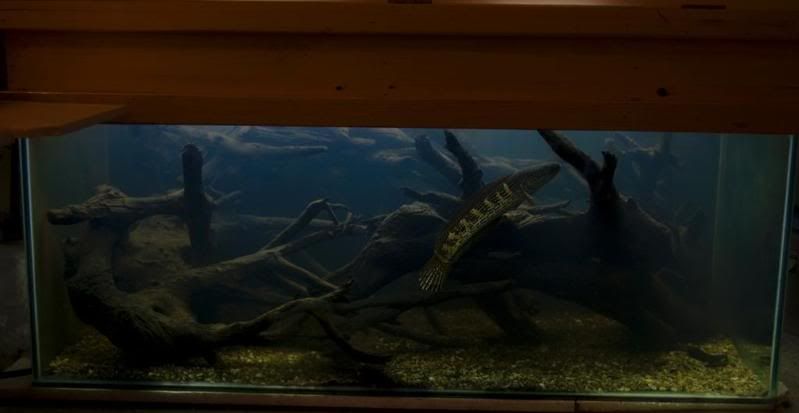 as time passed from months to years this fish had pretty much claimed the tank and the area of the room in front of the tank to be its own, whenever i came and sat down in front of the tank, which was pretty much every evening after work, it demanded food by banging onto the front pane of the tank, and its thumps were so very audible that i could hear them from the other room across the hall.
and it used to be very calm even when i used to take my hand close to it and touch while feeding it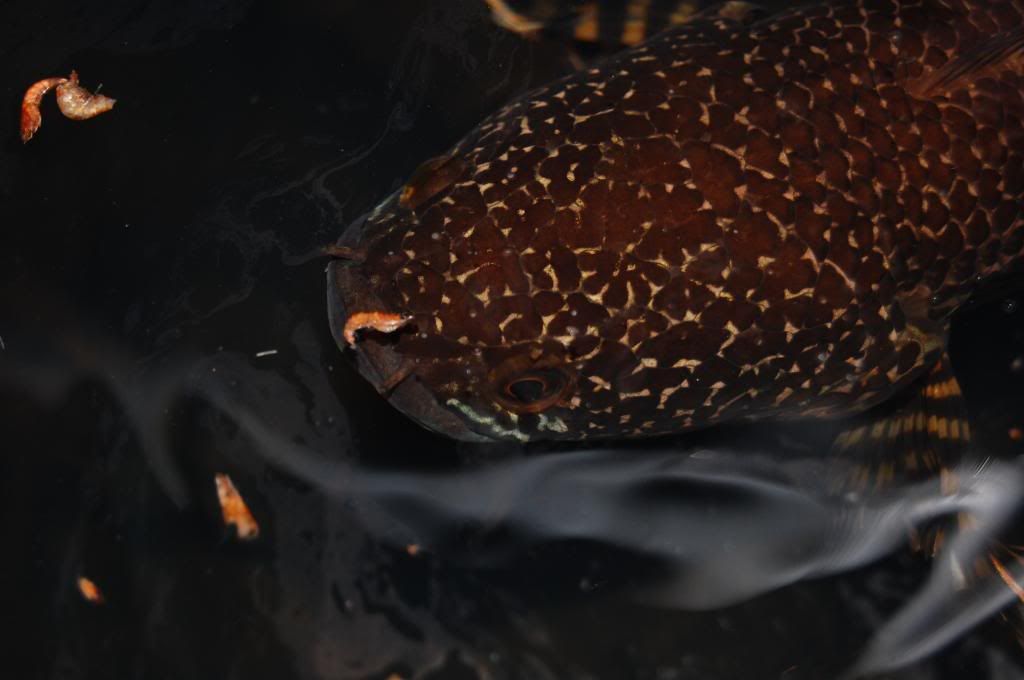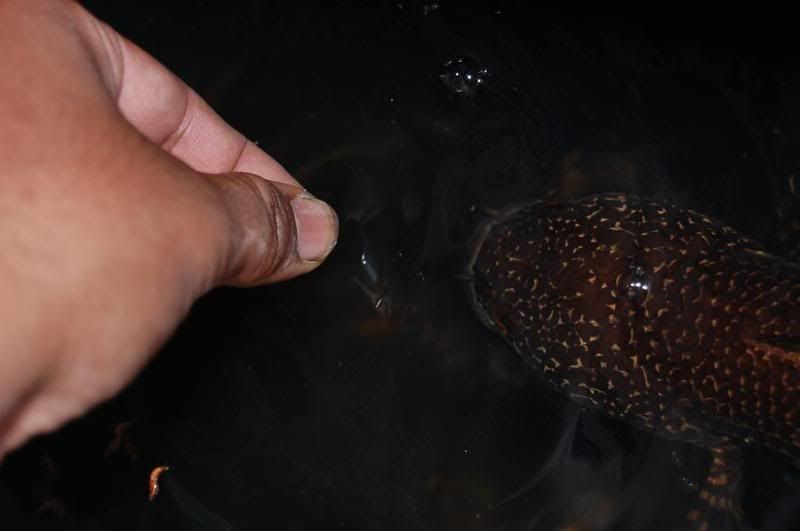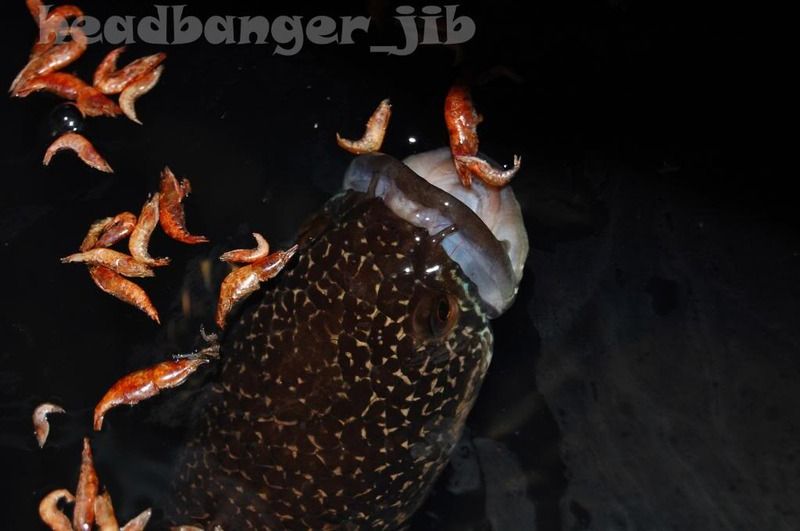 some in tank pics as the tannic acid reduced over the time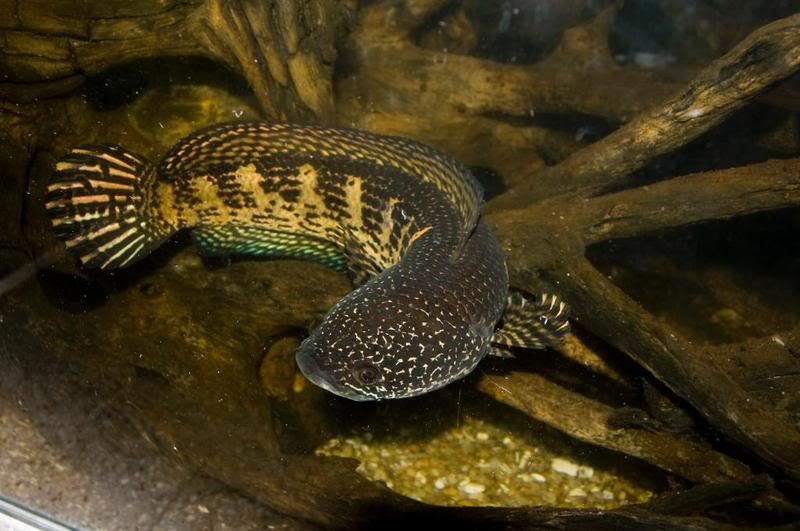 over a period of three years and more this fish was a stunner and used to put visitors in a trance and a barrage of questions would be asked about this fellow, not only among the non fish keeping fraternity even among the fish keepers
it always was fun to photograph the beast that he was close to 17" or so i presume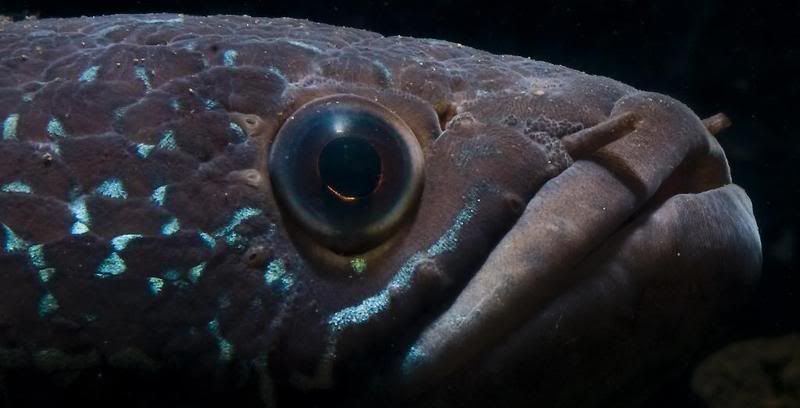 the gold stripes always were fascinating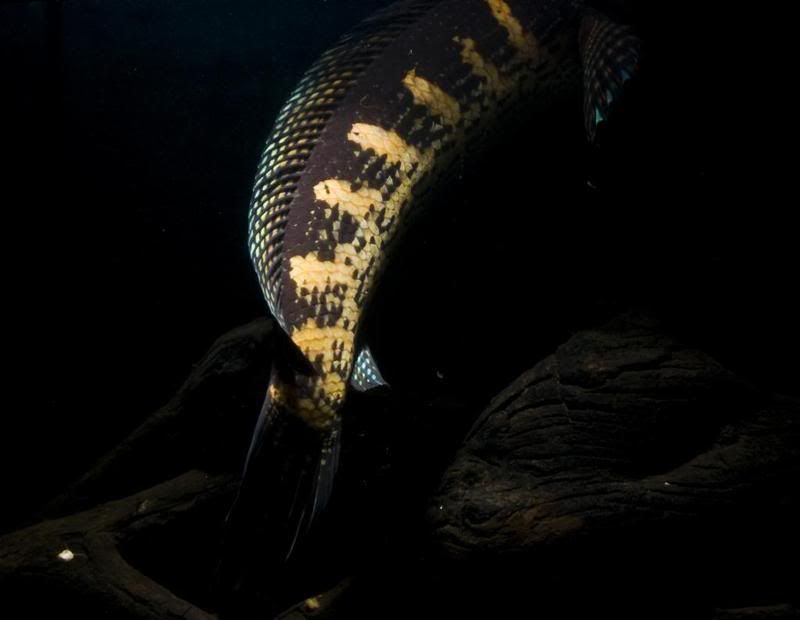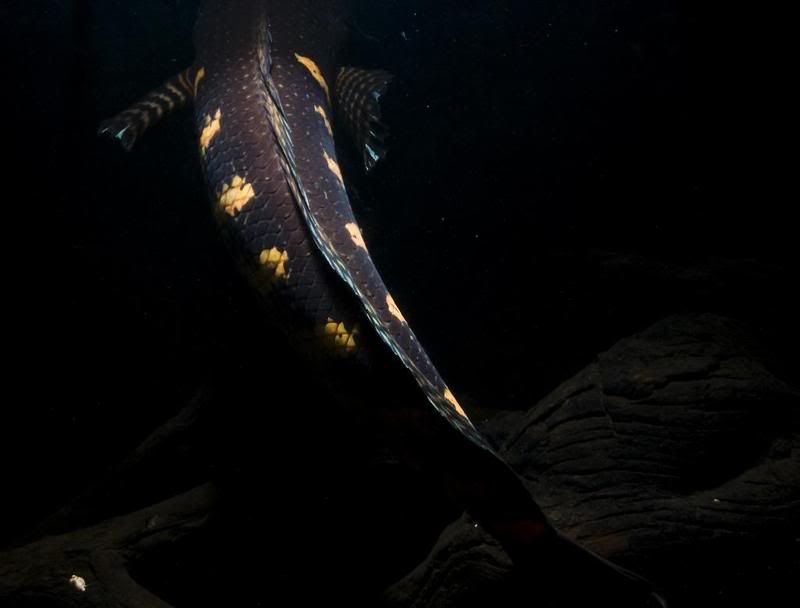 another closeup of the eye
always watching you
one thing about the monster fish that i've noticed is, no matter how skittish they are to begin with or how tame they were, as they get bigger and they get to know you they stop fearing you and this boldness very soon transforms into intimidation, where they start threatening you, which is absolutely precious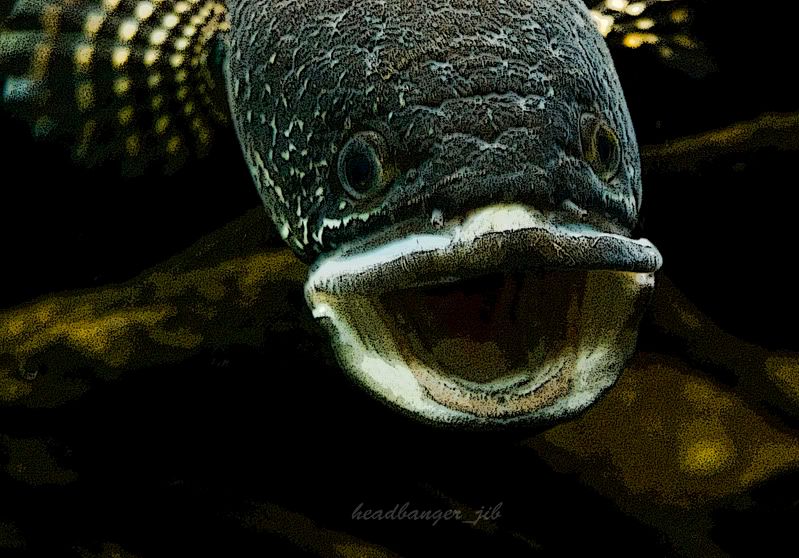 i think he was asking me to put food
a few more pics that reminds of this stunning fish
hand feeding gone wrong, it did manage to draw blood, there were three deep cuts and a few scratches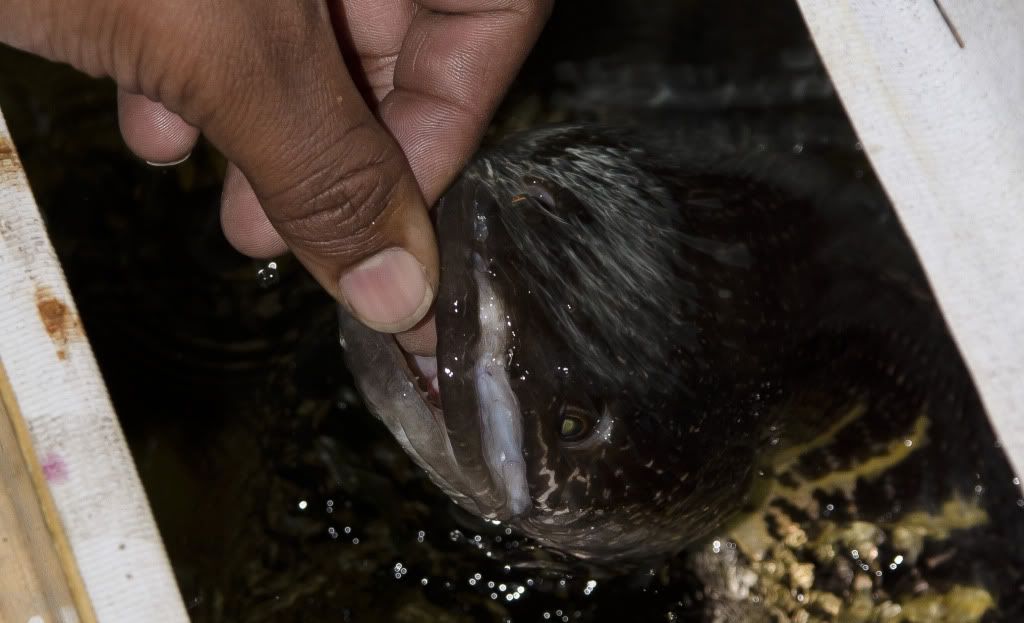 he loved superworms(i saw a lot more active fish when i introduced superworms and crickets to its diet)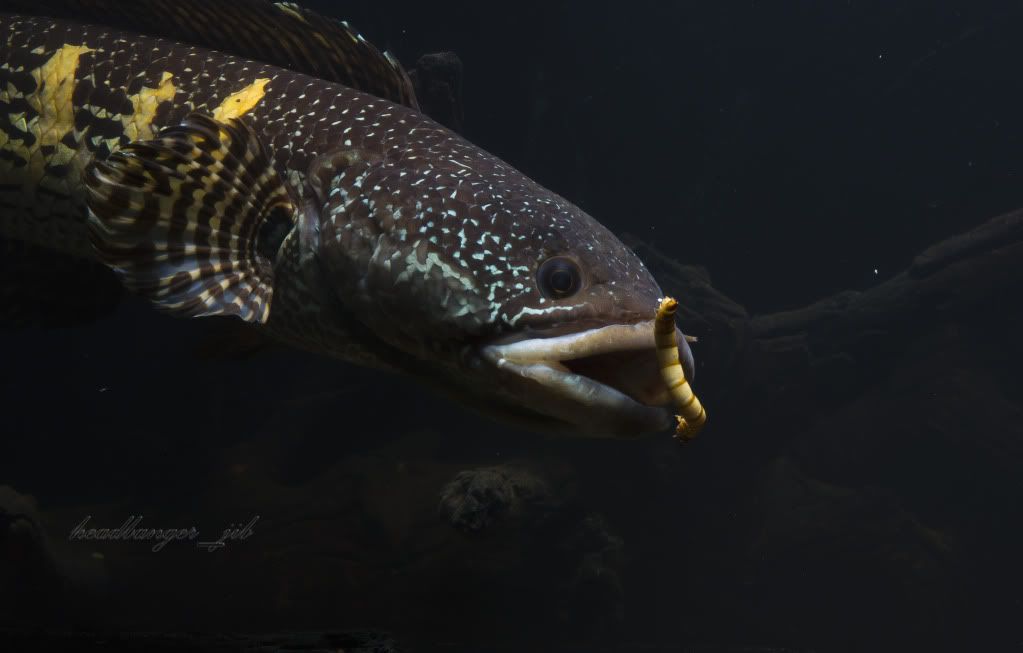 and here is a show of colors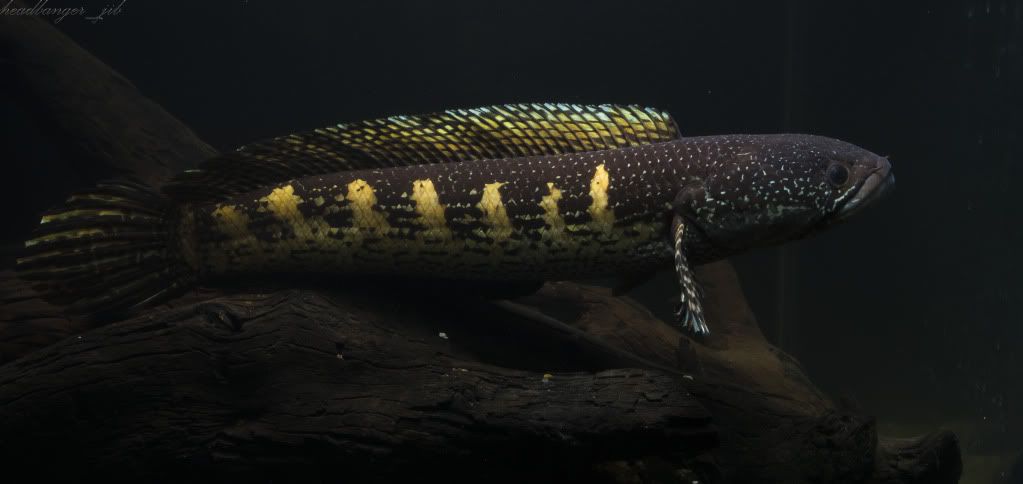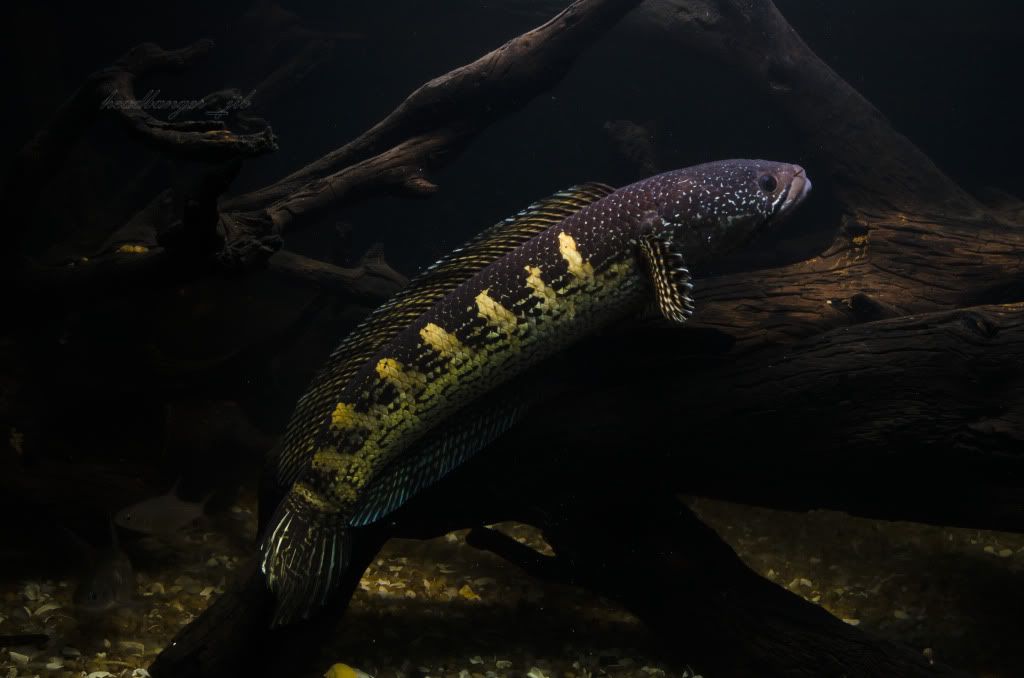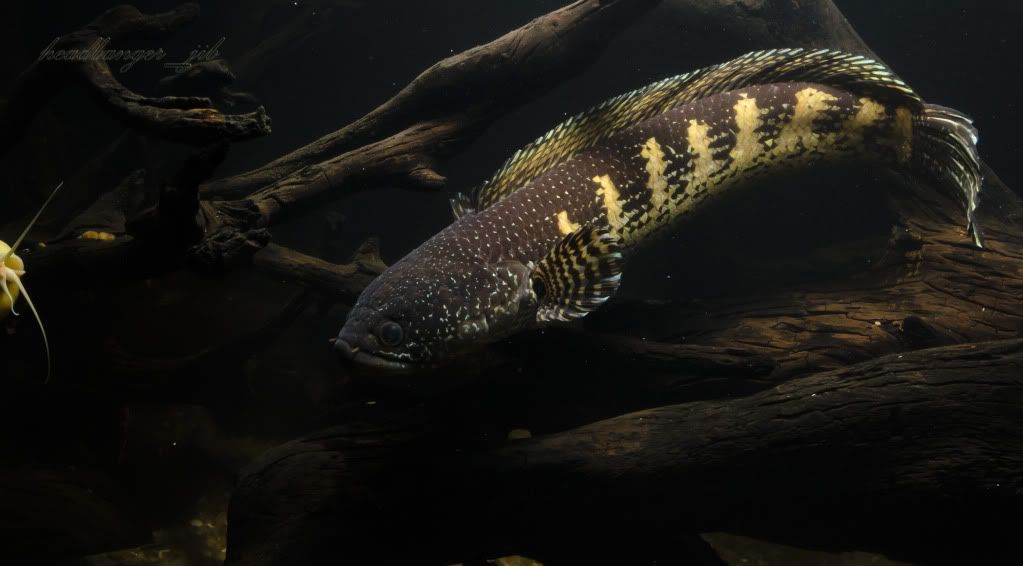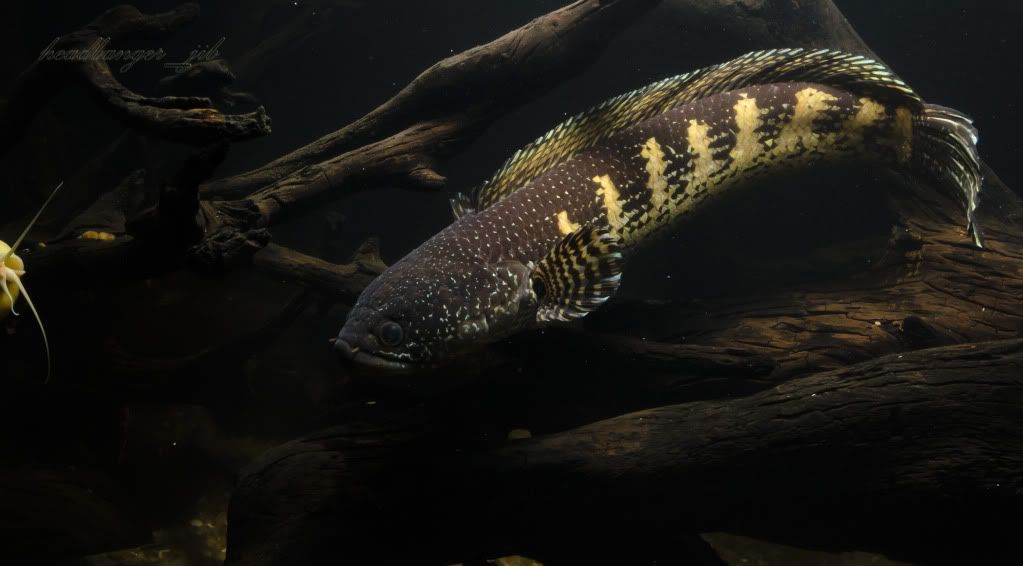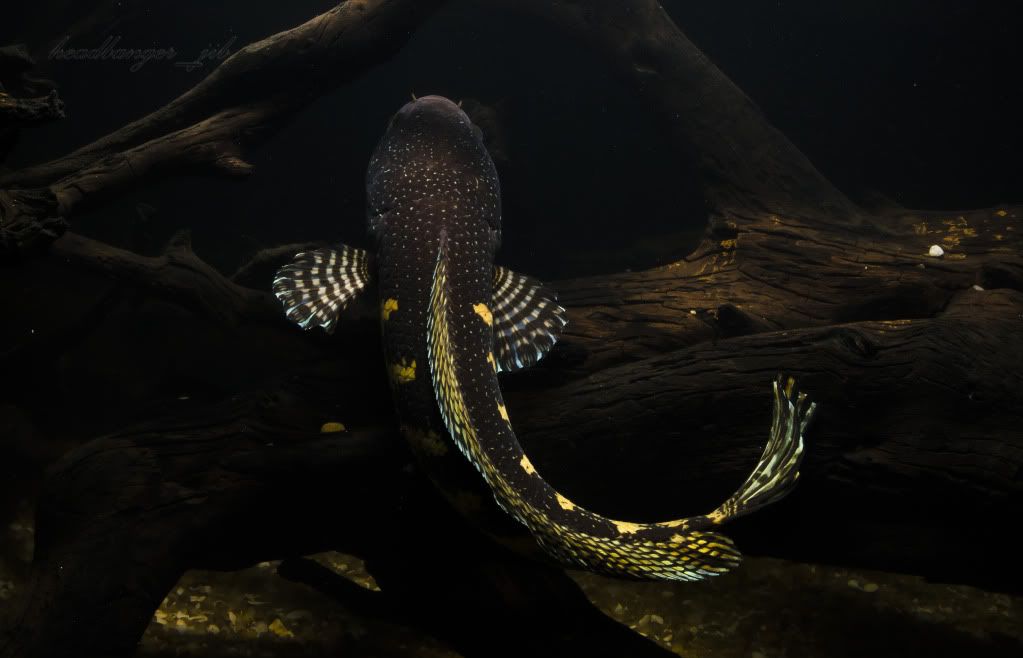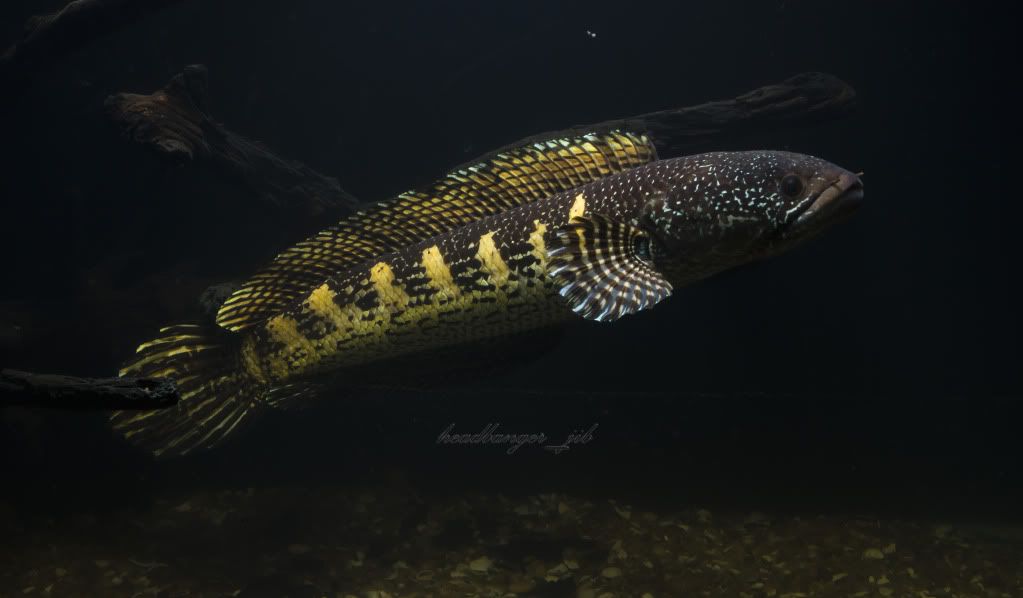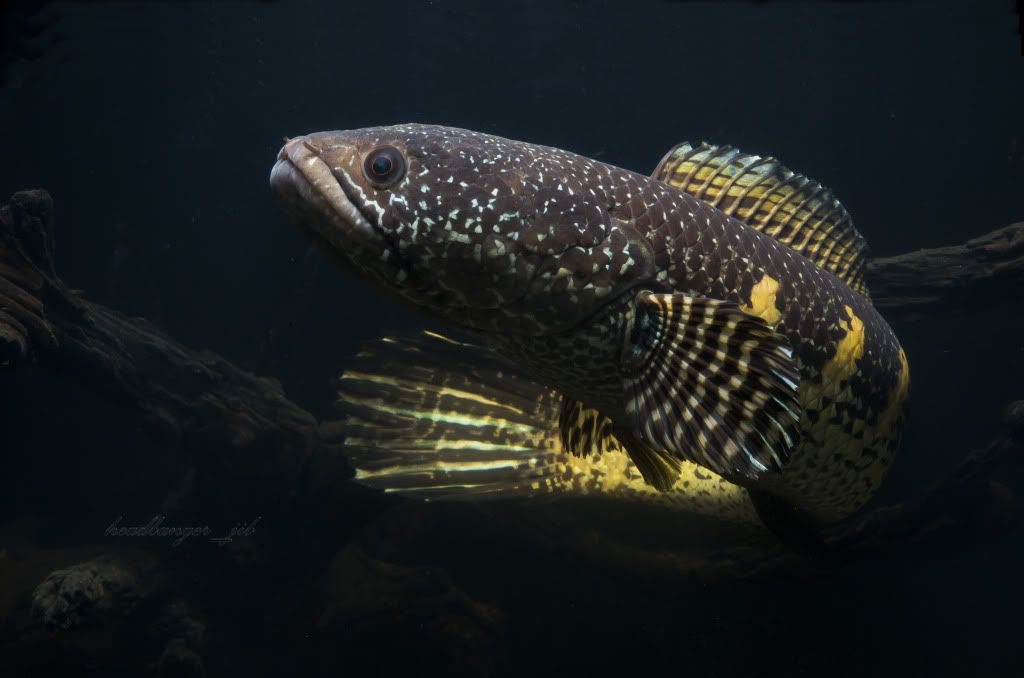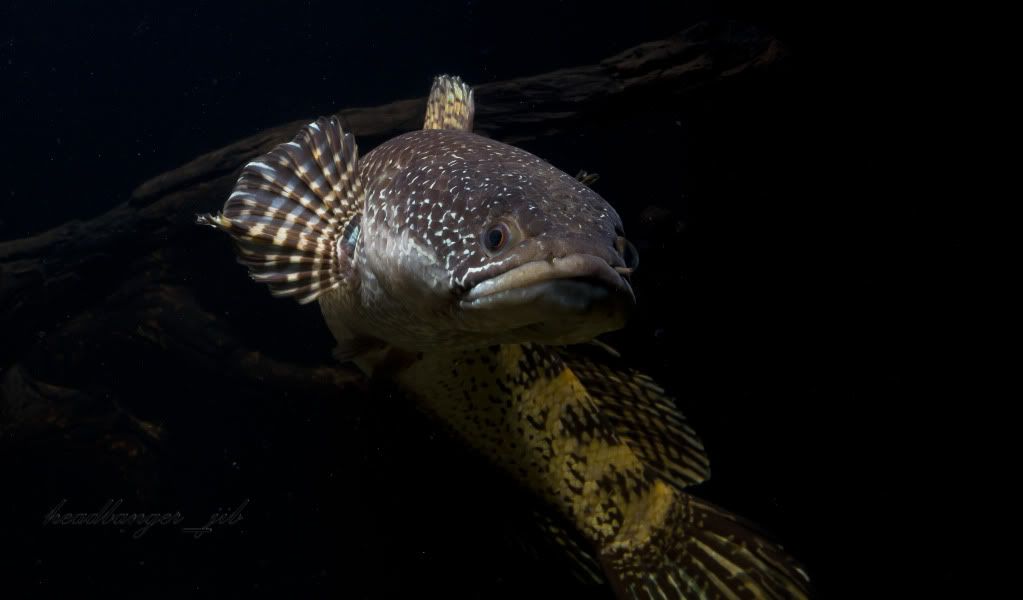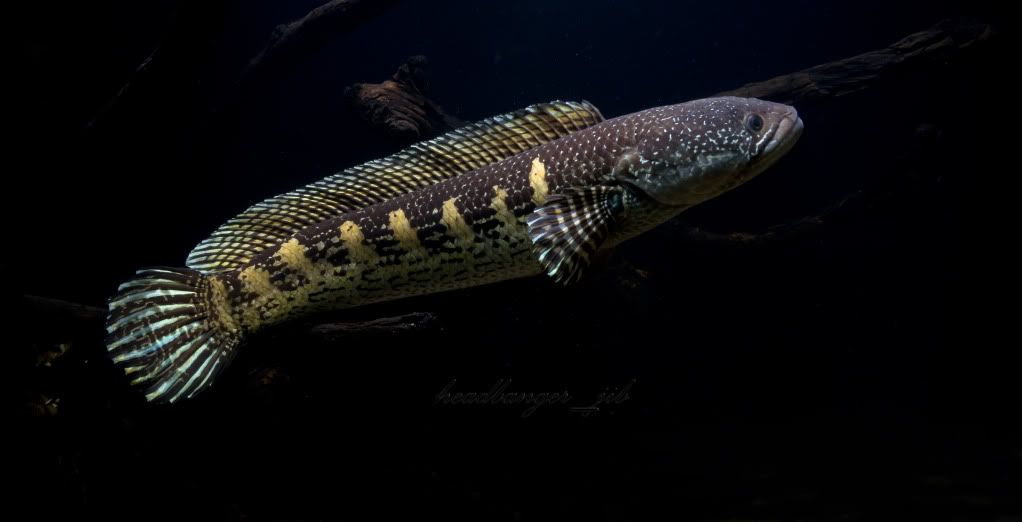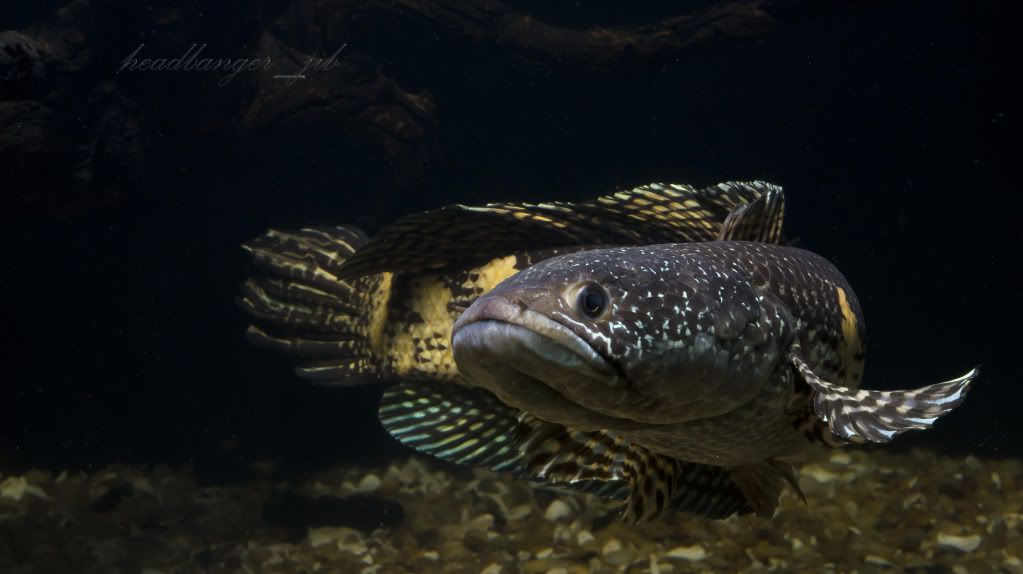 i hope my long and winding post didn't bore you to sleep