I have been keeping planted tank for 6 years. After using trial and error method, I got success in growing plants.
In February, 2010, I came in contact with Venky Rajskher Reddy in an 'Aquarist Meet' at his residence. He is Discus Keeper. First time, I saw so much beautiful Discus fishes. They were amazing and fascinating me. And I did not know when Discus made a room in my heart. I started acquire knowledge from books and other hobbyists. Most of the hobbyists, daily changes upto 90% of water. It is a very difficult task in planted tanks. So I rejected the idea of keeping discus in planted tank.
My wife Sangita also likes Discus fish. On her birthday, I decided to bring a pair of Discus. I contact to Venky Rajskeher Reddy and he had given me a full grown Blue Turquoise Discus pair.

My first Discus in a semi planted tank
I introduce my first pair of discus in semi planted 120X45X45 cm tank along with some other fishes. In first few days, I started 50% water change in alternate days. After some days, i introduced six more discus fish with blue turquoise. Most of the aquarists are keeping discus in between 28-30 degree celcius temperature. But this temperature range does not suit to most of the plants. Plants need temperature between 23-27 degree celcius. All of the books and discus expert do not allow keeping discus in planted tanks due to following reasons:
Differentiate in Temperature requirements:
Discus needs temperature range from 28 to 32 degree Celsius while this temperature does not allow growing most of the plants. They need temperature range from 23 to 27 degree Celsius for better growth.
Water change schedule:
Discus needs frequent water change but it is not possible in planted tanks due to CO2 and fertilizers supplements.
Water parameters:
Discus needs some acidic water while all of the plants have wide range of pH requirements.
Role of Nitrate, Nitrite etc.:
Nitrate/Nitrite are required for plants growth but both of the elements are highly toxic for discus. They are highly sensible for Nitrate and Nitrites. Discus needs no detection of Nitrate and Nitrite. Unused food, dead fish and plants contribute Nitrate/Nitrite in the aquariums. There is no place of any of these chemicals in discus tank.
Substrate Requirements:
Most of the aquarists/breeders keep discus in bare bottom tanks while plants need substrate to keep itself constant otherwise they will float. Discus are also slow eaters. Left food in substrate will cause hike in Nitrate/Nitrite levels. Discus keeper always siphon leftovers after feeding. So all of the discus keepers prefer to bare bottom tanks. All of the plants need some type of substrate except some anubias sp, ferns, riccia, moss etc.
Fertilizers/Supplements in planted aquariums:
Planted aquariums need some micro/macro fertilizers and CO2 supplements. Discuses are very sensitive in presence of such chemicals in water. They also need high levels of dissolved oxygen contents in water.
Light:
Every plant needs light to grow. Some plants have high requirements of light while some can grow well in moderate to low light. Discus are originally from Amazon river basin. The water is acidic and tea colour at there. So we should always keep this point in mind and try to arrange some hiding and lit light places in the aquarium.
We can follow following steps to keep discus in planted tanks:
Tank Size:
Bigger is the best. Tank size should not be less than 4 foot.
Water change schedule:
Keep minimum bioload in the tank and change atleast 50% water twice a week.
Controlled Feeding:
Offer limited quantity of food in aquariums so that fishes can end up in 5-10 minutes. Feeding can be done twice-thrice a day.
Best time to introduce discus in planted aquarium:
Introduce discus only in fully cycled tank when all the water parameters have been stable.
Temperature:
Temperature should be maintained between 26-27 degree celcius. Discus and most of the plants will be thriving happily in this range.
Discus Size:
Introduce only adult full grown discus in planted tanks. Small size discus will not grow properly in planted aquariums and their growth will be stunted.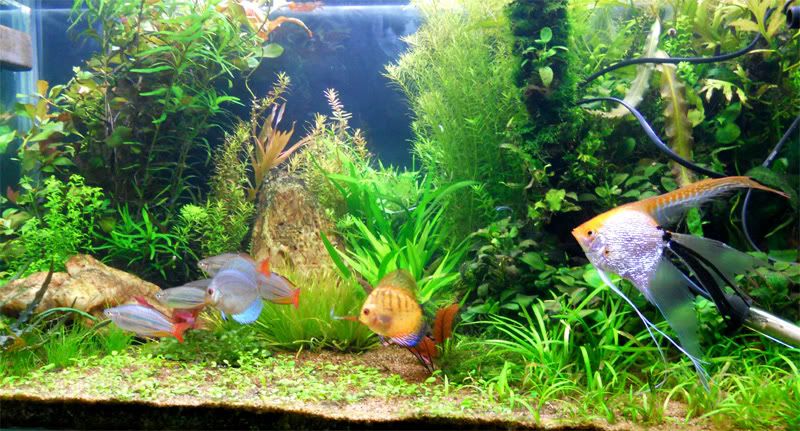 Discus in a heavily planted community aquarium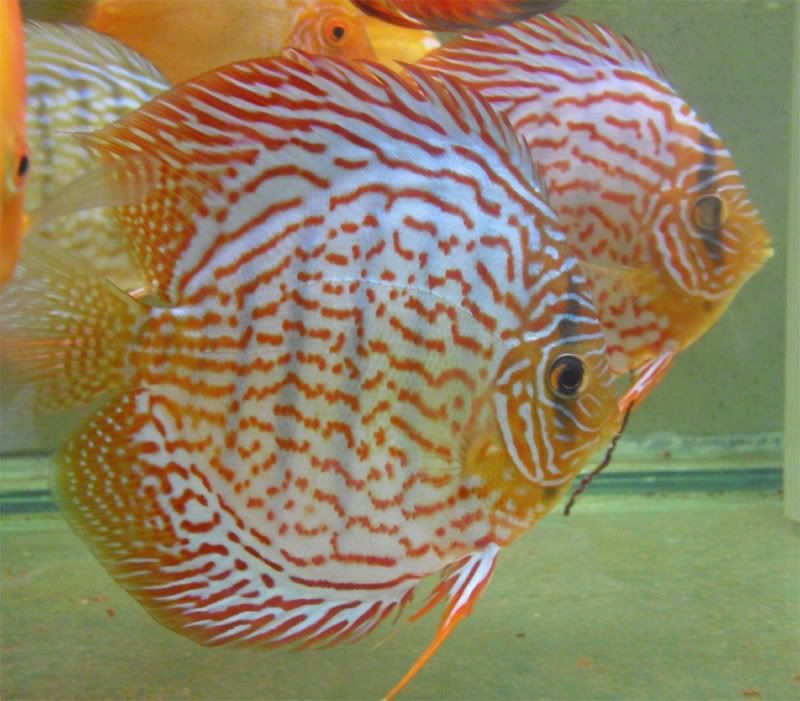 Breeding pair of discus in a bare bottom tank.