This is the method I used to setup my High Tech Planted 4ft tank using the Complete ADA soil package.
1. Before you start to prepare the plants you are going to plant.
Trim roots down to workable lengths (use sharp scissors). Keep them moist or wet at all times. I used a water drum to store my plants for planting.
2. Make sure the tank is dry and empty.
The 5 Powders we are going to use...
3, Sprinkle Penac W, Penac P and Tourmaline BC evenly on the aquarium base.
4. Apply an evenly spread of ADA Power Sand Special M on the base
ontop of the 3 powders. Note: Only apply then Powersand to the area where you are going to plant your plants.
5. Sprinkle Bacter 100 and Clear Super evenly ontop of the Power Sand.
6. Open the bags of New Amazonia Aqua Soil and place in the aquarium to your desired level.
Be creative and make hills etc.
7. Apply a thin layer of New Amazonia Powder Aqua Soil ontop of the normal if desired.
Note: Sand Flattener is very useful for leveling the front line of the substrate, and making a slope from foreground to the back for perspective.
8. Add your desired hardscapes to the tank
(this may be rocks and driftwood).
9. Spray the soil down with water until the water level is just below the soil level.
10. Plant your plants in the desired locations.
It is advised to use fast growing plants for the first 6 months before adding more fragile and rare plants. This is to suck up as much nutrients as possible.
11. Use a bag from the soil and apply ontop of your scape, and put the hose on med and let the water fill up the tank without disturbing the substrate
(make sure water has been aged for a few days)
12. Once filled, setup the filtration, lighting and co2 system.
13.
Do daily water changes of 50% or more, for the first 2 weeks (as it leeches lots of nutrients). Then 25% water change for every week after that.
14.
Let the tank run for 48hrs before adding your Algae Cleanup Crew (ottos and Darwin Algae Shrimps)
15.
Monitor your ammonia, nitrates, phosphates etc for the first weeks until it has been stable for a week.
16.
After the cycling has finished, you can slowly add your live stocks.
17.
After 6 months, you can slowly replace your plants you desire.
Recommendations:
Lighting:
For a High tech tank it is recommended you use Metal Halides in conjunction with T5s. Depending on the depth of the tank, anything under 50cm high should use 150watts and anything higher should use 250watt. I used to use the Aquamedic Oceanlight 150 PLUS x 2. The Metal Halide bulbs should be 6500k and the T5s should be plant tubes (Aqualine).
If you would like to save some money. electricity and grow low lighting plants. You can use the UP Aqua Z series LED lighting. For a 4ft tank, you might have to use 3-4 sets of these lights.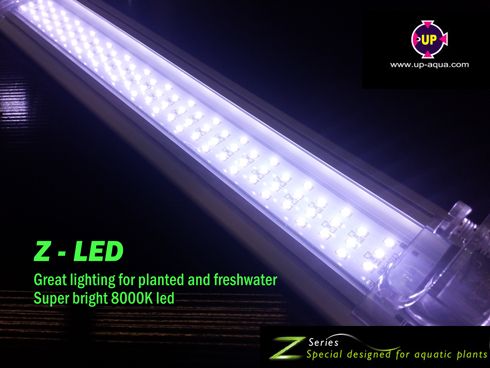 I am currently using the new Kessil Amazon Sun A150W, it is a 34w densely-populated LED, clustered in one small place and giving the most amazing shimmer through the water. It is equivalent in strength to a brand new 150w Metal Halide Lights. With the plants currently (2014) growing my tank, 2 units have been placed for my 4ft tank. But for plants requiring more lighting, it is recommended to use 1 x A150W for each 30cm (1ft) long of the tank.
Co2 Systems:
When deciding to purchase a co2 set you should remember to get a good quality set as replacing cheap equipment will be more expensive in the long run. I always recommend getting the largest co2 bottle you can afford and a good quality one. I highly recommend the Aquamedic range of
bottles
. The 200g and 500g are round bottomed so you will need to get hooks to hang the bottles below the tank. I am using the 2kg bottle which is their largest. It is made from high quality materials and the best on the market. There is never a bottle too big for any tank. I recharge my bottle once every 2 months running 3bps (bubbles per sec), but when keeping shrimps, it is advised to only dose 1bps.
With the
regulator
, I highly recommend the Aquamedic co2 regulator. It is high quality and hardly fails on you like other cheap products. The regulator and the co2 bottle you should get the best that you can afford as these are usually just once offs.
If you decide to run your co2 when your lighting is on, I would recommend you purchasing the Aquamedic M-ventil Standard
Solenoid
. If you attach this to your co2 regulator and a timer, you can program the time you want the co2 to come on or off. When my lighting comes on, my co2 comes on. When my lighting goes off, my co2 goes off and my airpump switches on. Running co2 at night can kill your livestocks.
Inorder to control the amount of co2 per second, you will need to attach an ADA
bubble counter
(or any cheap one) from the solenoid and the other end to the reactor. The co2 reactor is when the co2 air is mixed in the water before return to the tank. I highly recommend the
Sera flore co2 reactor
. I use the Flore 1000 for my 4ft tank as the co2 will mix longer in the chamber before returning to the tank. The Sera inline reactor is driven by the output of the filter. The water returned from the filter, then through the reactor when it picks up co2 and travels back to the tank. With other reactors, you will see a fine mist of co2 in the water, but with the Sera Flore reactors the water will stay clear. You can fine my review
Filtration:
For tanks under 4ft I recommend using Canister filtration. The brand of filtration isn't import, but the media inside the filter is. I am using an Aquaone CF-1200, the filter is cheap and parts is cheap. I have been using this filter for 3 years now and haven't even replaced any parts yets. Inside there will be 3 level chambers. The first chamber (the bottom) is using the stock sponge (white and black), the second and third chamber (middle and top), I filled it with Seachem Matrix. It has the highest serface area and the best thing you can invest for your filter. You will never have to change it, and can use it for along time. The matrix in my filter is over 10 years old and doing very well. For the filter intake, it is best to use a fine mesh strainer. This will prevent your shrimps, and small fish from getting sucked in your filter.
For nano tanks (under 30cm long), you can use HOB (Hang of Back) filters, again the brand isn't important. I am using an Aquaone HOB filter for my nano tank. Again the media has been changed. First I have a sponge where the water comes in from, then fill the entire compartment with seachem matrix. The Sponge will block all the solids and the clean water can go through the bacteria in-riched matrix.
Fertilization:
There are many types of fertilizers out on the market. I use what is easiest to me and what gives the most growth and colours to my plants. I am using a mixture of ADA and Seachem products. With the combination of high light, and high levels of co2, a high level of ferts must be used to balance the 3 together. If one of these are imbalanced, it will result in algae blooms.
ADA Green Brightly Special LIGHTS:
Is recommended for plants requiring a lot of lighting such as Glossostigma and other stems. They require nutrients such as Nitrogen, Phosphorous and Potassium.
ADA Green Gain:
I add Green Gain each time I trim a plant. This contains active ingredients (trace elements, minerals, amino acid etc.). Among other various botanical hormones, Green Gain includes cytokinin which, extracted from natural materials, eases plant stress and increases the resistance of aquatic plants against diseases. I have found adding Green Gain increased the time of new shoots appearing and faster recovery of the plants.
ADA Iron Bottoms:
I insert Iron Bottoms in the soil every 6 months to give plants a boost in iron through their roots. Crypts, Swords, Red Plants and especially Pogo helferi would love the extra boost of iron. Many people have troubles growing Pogo helferi low and thick, with the addition of high lighting, co2, ferts and ofcoarse Iron Bottoms, Pogo helferi grow like crazy.
ADA Multi Bottoms:
I insert Multi Bottoms in the soil every 6 months along with the Iron Bottoms. Multi Bottoms contain a balanced formula of trace elements vital for aquatic plants. It is like multivitamins for humans.
Seachem Flourish Excel:
I use this daily, along with co2. This increases the amount of co2 in the water which plants will bennifit from. Excel also has iron reducing properties which promote the ferrous state of iron (Fe+2), which is more easily utilized by plants than ferric iron (Fe+3). Plants seem to pearl up faster with the extra addition of Excel.

Seachem Flourish Iron:
I used this daily, usually 2-3 times the dose. I grow mainly red plants and plants that love iron. With high lighting, and high co2, plants tend to eat a lot more ferts than low lighting plants. You would think addition 2-3 times the dosage will be too high? Infact after 24hrs, test the water, the water will have little to no iron. With this amount of iron, my red plants are deep red. My blyxa is deep purple. But only experienced plant keepers should apply higher than the recommended dosage, it is ok to add the normal dose.
Seachem Potassium:
The potassium in ADA Green Brightly Special LIGHTS is not enough for my needs, so to replace ADA Brighty-K, I have used Seachem Potassium. I dose the daily recommended dose. This improves growth and health of plants. This will prevent the yellowing of leaves in plants which is usually the sign of potassium depletion.
Seachem Flourish:
I use this once a week, it contains rich macro elements, trace elements and other nutrients. I love ferts and the plants love me with the addition of Flourish weekly, plants grow and reproduce faster. Crinums love this stuff
Copyright © Forever-mango. This article must not be reproduced in anyway without written permission from the owner of this article.